All work and no play may make Jack a Nobelprize winner, but occationally the whole lab (this year the whole labs) of Soft Condensed Matter & Biophysics take a day to bond, recharge, and discover the beauty of the Netherlands outside of Utrecht. This year's destinations were Giethoorn and Dwingeloo, though we did not have the time to visit the local radio observatory.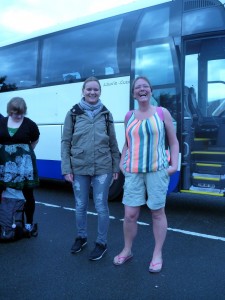 While there was some  initial disagreement over the expected weather, and accordingly the appropriate attire for the trip, among the participants (see image) we all had a great time exploring the hamlet of Giethoorn and its surroundings by boat and on foot, as the village is nominally a car-free zone.  After lunch and a leisurly walk under the sunny summer sky, we were off to the second leg of the journey, a horse carriage tour through the Drenthe heath.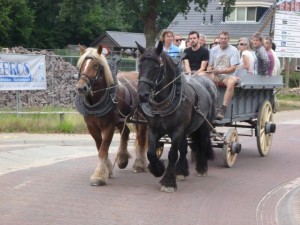 Unfortunately, this point of the programme was quite delayed due to our beginner's mistake of blindly following the GPS. Kudos to our driver, who managed to manoeuvre his 60-seater bus on the tightest of spaces. Eventually we did arrive at the right address (same street, two villages over) and were treated to the rural beauty of Drenthe (mostly corn).
The evening ended where it began, and thanks to Vassili's meticulous counting at every stop even in full strength: back in Utrecht at Fort aan de Klop for a well deserved BBQ (no picture, as I was busy eating シ).