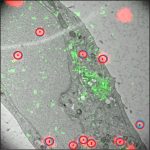 Next week, Dutch biophysicists will come together in Veldhoven for the 2016 Dutch Biophysics Meeting. Of course, we will be there as well to present our work from the STW Microscopy Valley project in one talk and four posters:
Jantina will tell you about novel fluorescent fiducials in the 'Electron Microscopy' session on Monday (Brabantzaal, 15:20)
Also on Monday, in the odd-numbered poster session, Job  (P2.07) and Marc (P2.25) will present their work on correlative LM/EM and fluorescently-labelled colloidal crystals, respectively.
We hope to see you at the meeting!